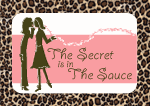 Today starts Merry SITSmas on the SITS girls blog. If you are not a SITSta, go on over and check it out. The GRAND Prize for Merry SITSmas is a $200 TARGET gift card and you can score an extra 10 entries just by making a post.
Kiki & Lele are participating in Merry SITSmas, keep your eyes peeled and make sure to enter to win... I will not say anymore, I would hate to ruin the surprise...
GO.... you are waisting valuable time, there is a TARGET gift card at stakes here, for crying out loud!!!! Madness I tell you, pure madness!
Oooh, wait, don't go just yet, leave me a comment to tell me which K&L piece you like the best! I would love to hear from you!!!!
Adios- get going....